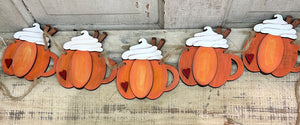 Imagine the banner across your mantle, window, bookshelf, etc. Pumpkin mugs are approx, 4.5" tall. It comes with five pumpkins, however single ones can be added to make your banner longer.
Unpainted projects do not include paint or glue. 

We recommend using acrylic paint or paint markers. We use Posca markers to paint our kits, available in our store.